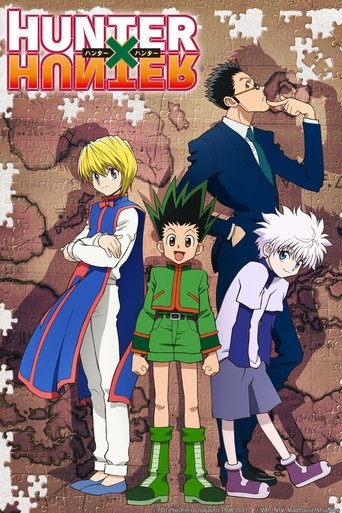 Rating:
8.5/10
All Seasons:
Season 1 Subtitles →
Season 2 Subtitles →
Season 3 Subtitles →
Storyline of Hunter x Hunter (2011):
Twelve-year-old Gon Freecss one day discovers that the father he had always been told was dead was alive and well. His Father, Ging, is a Hunter—a member of society's elite with a license to go anywhere or do almost anything. Gon, determined to follow in his father's footsteps, decides to take the Hunter Examination and eventually find his father to prove himself as a Hunter in his own right. But on the way, he learns that there is more to becoming a Hunter than previously thought, and the challenges that he must face are considered the toughest in the world.
Download Formats:
Download Hunter x Hunter in HDTVxh264, WEBrip, 1080p WEB (STRiFE) y 720p / 1080p, SA/AVS, WEB.STRiFE, HQ HDRip - XviD, 1080p.BluRay.x264-DRONES, 1080p.BluRay.x264-DRONES, 1080p.BluRay.x264.DTS-HD, 720p.BluRay.x264-YTS.AG, HDRip.XviD.AC3-EVO high quality subtitles from the Download servers below.
Languages Available in:
The download servers below has Hunter x Hunter subtitles in English, Danish, Dutch, French, Germany, Hindi, Italian, Norwegian, Polish, Portugese (Brazil), Spanish (Latin American), Spanish/Espanyol (Spain), Swedish, Tamil, Greek, Russian, Hungary, Korean, Japanese, Chinese, Arabic and Aharamic Languages.
How to use the Downloaded .srt Subtitle file
Step 1: Download the appropriate subtitle file:
Download the .Srt subtitle files for Hunter x Hunter by following the
"Download Server 1"
Links above. You will be taken to a page where you can now download the appropriate subtitle file for your movie or series.
Alternatively, you can use the
"Download Server 2"
link if the first server does not work for you!
Step 2: Adding Subtitles to Your VLC Player or other Media Players
To Add Subtitle files to your VLC Player, follow these steps accordingly:
1. Move the subtitle file into the same folder as your video file.
2. Rename the subtitle file with exactly the same name as your Movie or tv series file, so you have two files like.
3. Play your video in VLC. You should now see subtitles appear over your movie. If you don't, double check the .srt file is correctly named like your video, then close and restart VLC before playing again.
Cast of Hunter x Hunter (2011)
Mamoru Miyano, Miyuki Sawashiro, Megumi Han, Namikawa Daisuke, Keiji Fujiwara, Rikiya Koyama, Mariya Ise, Banjou Ginga, Chisa Yokoyama, Kouki Uchiyama, Daisuke Namikawa,
Writing: