TV Episodes Guide:
(S07E03) Previous Episode
Aired On 2019-10-18
Aram goes undercover to infiltrate a secret society of wealthy thrill-seekers, whose entertainment hinges upon spectacular acts of violence. Meanwhile, Red tries to negotiate with a former associate involved in the Townsend Directive, while Katarina Rostova takes steps to insinuate herself into Liz's life.
Next Episode (S07E04)
Airs On 2019-10-25
Cooper's moral compass is tested when an officer whom he served with as young man, long presumed to be dead, resurfaces as a POW.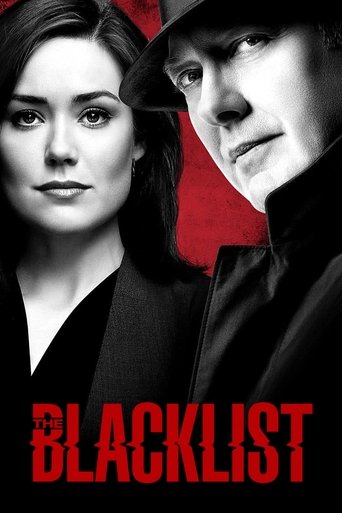 Rating:
6.9/10
All Seasons:
Season 1 Subtitles →
Season 2 Subtitles →
Season 3 Subtitles →
Season 4 Subtitles →
Season 5 Subtitles →
Season 6 Subtitles →
Season 7 Subtitles →
Storyline of The Blacklist (2013):
Raymond "Red" Reddington, one of the FBI's most wanted fugitives, surrenders in person at FBI Headquarters in Washington, D.C. He claims that he and the FBI have the same interests: bringing down dangerous criminals and terrorists. In the last two decades, he's made a list of criminals and terrorists that matter the most but the FBI cannot find because it does not know they exist. Reddington calls this "The Blacklist". Reddington will co-operate, but insists that he will speak only to Elizabeth Keen, a rookie FBI profiler.
Download Formats:
Download The Blacklist in HDTVxh264, WEBrip, 1080p WEB (STRiFE) y 720p / 1080p, SA/AVS, WEB.STRiFE, HQ HDRip - XviD, 1080p.BluRay.x264-DRONES, 1080p.BluRay.x264-DRONES, 1080p.BluRay.x264.DTS-HD, 720p.BluRay.x264-YTS.AG, HDRip.XviD.AC3-EVO high quality subtitles from the Download servers below.
Languages Available in:
The download servers below has The Blacklist subtitles in English, Danish, Dutch, French, Germany, Hindi, Italian, Norwegian, Polish, Portugese (Brazil), Spanish (Latin American), Spanish/Espanyol (Spain), Swedish, Tamil, Greek, Russian, Hungary, Korean, Japanese, Chinese, Arabic and Aharamic Languages.
Download Subtitles:
How to use the Downloaded .srt Subtitle file
Step 1: Download the appropriate subtitle file:
Download the .Srt subtitle files for The Blacklist by following the
"Download Server 1"
Links above. You will be taken to a page where you can now download the appropriate subtitle file for your movie or series.
Alternatively, you can use the
"Download Server 2"
link if the first server does not work for you!
Step 2: Adding Subtitles to Your VLC Player or other Media Players
To Add Subtitle files to your VLC Player, follow these steps accordingly:
1. Move the subtitle file into the same folder as your video file.
2. Rename the subtitle file with exactly the same name as your Movie or tv series file, so you have two files like.
3. Play your video in VLC. You should now see subtitles appear over your movie. If you don't, double check the .srt file is correctly named like your video, then close and restart VLC before playing again.
Cast of The Blacklist (2013)
Krysten Ritter, Victor Slezak, Frederick Weller, Paul Reubens, Justin Kirk, Lance Reddick, Deirdre Lovejoy, Isiah Whitlock Jr., Peter Scanavino, Celia Weston, Luke Robertson, Zach Grenier, James Hong, Jennifer Ehle, Frank Whaley, Brian Yang, Cindy Katz, Jill Hennessy, Oded Fehr, Alan Alda, Ryan O'Nan, Aaron Lazar, Tom Noonan, Jake Weber, Wade Williams, Mike Doyle, Peter Vack, Victor Cruz, Gaten Matarazzo, Fisher Stevens, Robert Clohessy, Alfredo Narciso, Lenny Venito, James Spader, Megan Boone, Diego Klattenhoff, Ryan Eggold, Amir Arison, Harry Lennix, Hisham Tawfiq, Mozhan Marnò, Arian Moayed, Margarita Levieva, Tony Shalhoub, Melora Hardin, Edi Gathegi, Afton Williamson, David Strathairn, Patricia Squire, Nolan Lyons,
Writing:
Jon Bokenkamp
Taylor Martin
Noah Schechter