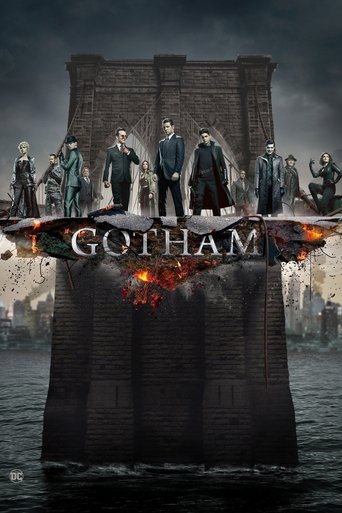 Rating:
7.2/10
All Seasons:
Season 1 Subtitles →
Season 2 Subtitles →
Season 3 Subtitles →
Season 4 Subtitles →
Season 5 Subtitles →
Storyline of Gotham (2014):
Everyone knows the name Commissioner Gordon. He is one of the crime world's greatest foes, a man whose reputation is synonymous with law and order. But what is known of Gordon's story and his rise from rookie detective to Police Commissioner? What did it take to navigate the multiple layers of corruption that secretly ruled Gotham City, the spawning ground of the world's most iconic villains? And what circumstances created them – the larger-than-life personas who would become Catwoman, The Penguin, The Riddler, Two-Face and The Joker?
Download Formats:
Download Gotham in HDTVxh264, WEBrip, 1080p WEB (STRiFE) y 720p / 1080p, SA/AVS, WEB.STRiFE, HQ HDRip - XviD, 1080p.BluRay.x264-DRONES, 1080p.BluRay.x264-DRONES, 1080p.BluRay.x264.DTS-HD, 720p.BluRay.x264-YTS.AG, HDRip.XviD.AC3-EVO high quality subtitles from the Download servers below.
Languages Available in:
The download servers below has Gotham subtitles in English, Danish, Dutch, French, Germany, Hindi, Italian, Norwegian, Polish, Portugese (Brazil), Spanish (Latin American), Spanish/Espanyol (Spain), Swedish, Tamil, Greek, Russian, Hungary, Korean, Japanese, Chinese, Arabic and Aharamic Languages.
How to use the Downloaded .srt Subtitle file
Step 1: Download the appropriate subtitle file:
Download the .Srt subtitle files for Gotham by following the
"Download Server 1"
Links above. You will be taken to a page where you can now download the appropriate subtitle file for your movie or series.
Alternatively, you can use the
"Download Server 2"
link if the first server does not work for you!
Step 2: Adding Subtitles to Your VLC Player or other Media Players
To Add Subtitle files to your VLC Player, follow these steps accordingly:
1. Move the subtitle file into the same folder as your video file.
2. Rename the subtitle file with exactly the same name as your Movie or tv series file, so you have two files like.
3. Play your video in VLC. You should now see subtitles appear over your movie. If you don't, double check the .srt file is correctly named like your video, then close and restart VLC before playing again.
Cast of Gotham (2014)
Will Brill, Michael Cerveris, Paul Reubens, Michael Kostroff, John Doman, Willa Fitzgerald, Raúl Castillo, Michelle Veintimilla, Ron Rifkin, Carol Kane, Lili Taylor, Frank Whaley, BD Wong, Mekia Cox, Zabryna Guevara, Al Sapienza, Larry Pine, Victor Cruz, Victoria Cartagena, Chris Chalk, Drew Powell, Peter McRobbie, Joe Starr, Noah Robbins, Dash Mihok, James Frain, David Zayas, Donal Logue, Brette Taylor, Nicholas D'Agosto, Kim Director, Jada Pinkett Smith, Susan Misner, Dan Bakkedahl, Damian Young, Brian O'Neill, Peyton List, Christopher Heyerdahl, Ben McKenzie, David Mazouz, Sean Pertwee, Robin Lord Taylor, Erin Richards, Camren Bicondova, Cory Michael Smith, Michael Chiklis, Alexander Siddig, Daniel London, Crystal Reed, Milo Ventimiglia,
Writing:
Bruno Heller
Danny Cannon
Chad Fiveash