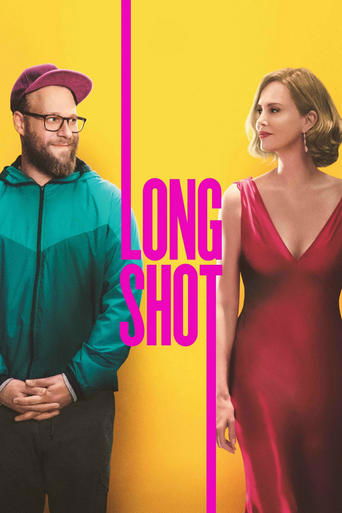 Rating:
6.6/10
Storyline of Long Shot (2019):
Fred Flarsky is a gifted and free-spirited journalist who has a knack for getting into trouble. Charlotte Field is one of the most influential women in the world -- a smart, sophisticated and accomplished politician. When Fred unexpectedly runs into Charlotte, he soon realizes that she was his former baby sitter and childhood crush. When Charlotte decides to make a run for the presidency, she impulsively hires Fred as her speechwriter -- much to the dismay of her trusted advisers.
Download Formats:
Download Long Shot in HDTVxh264, WEBrip, 1080p WEB (STRiFE) y 720p / 1080p, SA/AVS, WEB.STRiFE, HQ HDRip - XviD, 1080p.BluRay.x264-DRONES, 1080p.BluRay.x264-DRONES, 1080p.BluRay.x264.DTS-HD, 720p.BluRay.x264-YTS.AG, HDRip.XviD.AC3-EVO high quality subtitles from the Download servers below.
Languages Available in:
The download servers below has Long Shot subtitles in English, Danish, Dutch, French, Germany, Hindi, Italian, Norwegian, Polish, Portugese (Brazil), Spanish (Latin American), Spanish/Espanyol (Spain), Swedish, Tamil, Greek, Russian, Hungary, Korean, Japanese, Chinese, Arabic and Aharamic Languages.
How to use the Downloaded .srt Subtitle file
Step 1: Download the appropriate subtitle file:
Download the .Srt subtitle files for Long Shot by following the
"Download Server 1"
Links above. You will be taken to a page where you can now download the appropriate subtitle file for your movie or series.
Alternatively, you can use the
"Download Server 2"
link if the first server does not work for you!
Step 2: Adding Subtitles to Your VLC Player or other Media Players
To Add Subtitle files to your VLC Player, follow these steps accordingly:
1. Move the subtitle file into the same folder as your video file.
2. Rename the subtitle file with exactly the same name as your Movie or tv series file, so you have two files like.
3. Play your video in VLC. You should now see subtitles appear over your movie. If you don't, double check the .srt file is correctly named like your video, then close and restart VLC before playing again.
Cast of Long Shot (2019)
Randall Park, Seth Rogen, June Diane Raphael, O'Shea Jackson Jr., Alexander Skarsgård, Charlize Theron, Andy Serkis, Ravi Patel, Gabrielle Graham, Boyz II Men, Bob Odenkirk, Tristan D. Lalla, Lisa Kudrow, Lil Yachty, Kurt Braunohler, Paul Scheer, Claudia O'Doherty,
Directing:
Writing:
6.6/10
Country:

US

Language:

Français | English | svenska

Runtime:

125 mins

Budget:

$40,000,000

Revenue:

$42,226,535