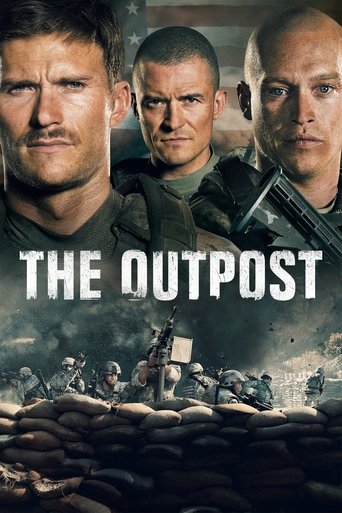 Rating:
6.6/10
Storyline of The Outpost (2020):
A small unit of U.S. soldiers, alone at the remote Combat Outpost Keating, located deep in the valley of three mountains in Afghanistan, battles to defend against an overwhelming force of Taliban fighters in a coordinated attack. The Battle of Kamdesh, as it was known, was the bloodiest American engagement of the Afghan War in 2009 and Bravo Troop 3-61 CAV became one of the most decorated units of the 19-year conflict.
Download Formats:
Download The Outpost in HDTVxh264, WEBrip, 1080p WEB (STRiFE) y 720p / 1080p, SA/AVS, WEB.STRiFE, HQ HDRip - XviD, 1080p.BluRay.x264-DRONES, 1080p.BluRay.x264-DRONES, 1080p.BluRay.x264.DTS-HD, 720p.BluRay.x264-YTS.AG, HDRip.XviD.AC3-EVO high quality subtitles from the Download servers below.
Languages Available in:
The download servers below has The Outpost subtitles in English, Danish, Dutch, French, Germany, Hindi, Italian, Norwegian, Polish, Portugese (Brazil), Spanish (Latin American), Spanish/Espanyol (Spain), Swedish, Tamil, Greek, Russian, Hungary, Korean, Japanese, Chinese, Arabic and Aharamic Languages.
How to use the Downloaded .srt Subtitle file
Step 1: Download the appropriate subtitle file:
Download the .Srt subtitle files for The Outpost by following the
"Download Server 1"
Links above. You will be taken to a page where you can now download the appropriate subtitle file for your movie or series.
Alternatively, you can use the
"Download Server 2"
link if the first server does not work for you!
Step 2: Adding Subtitles to Your VLC Player or other Media Players
To Add Subtitle files to your VLC Player, follow these steps accordingly:
1. Move the subtitle file into the same folder as your video file.
2. Rename the subtitle file with exactly the same name as your Movie or tv series file, so you have two files like.
3. Play your video in VLC. You should now see subtitles appear over your movie. If you don't, double check the .srt file is correctly named like your video, then close and restart VLC before playing again.
Cast of The Outpost (2020)
Cory Hardrict, Caleb Landry Jones, Taylor John Smith, Orlando Bloom, Scott Eastwood, Ernest Cavazos, Milo Gibson, Bobby Lockwood, Jacob Scipio, Jack Kesy, Celina Sinden,
Directing:
Writing:
Paul Tamasy
Eric Johnson
Jake Tapper
6.6/10
Country:

BG, US

Language:

English

Runtime:

123 mins