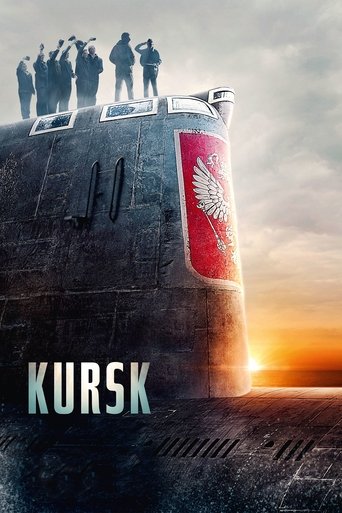 Rating:
6.8/10
Storyline of Kursk (2018):
Barents Sea, August 12th, 2000. During a Russian naval exercise, and after suffering a serious accident, the K-141 Kursk submarine sinks with 118 crew members on board. While the few sailors who are still alive barely manage to survive, their families push for accurate information and a British officer struggles to obtain from the Russian government a permit to attempt a rescue before it is late. But general incompetence are against all their efforts.
Download Formats:
Download Kursk in HDTVxh264, WEBrip, 1080p WEB (STRiFE) y 720p / 1080p, SA/AVS, WEB.STRiFE, HQ HDRip - XviD, 1080p.BluRay.x264-DRONES, 1080p.BluRay.x264-DRONES, 1080p.BluRay.x264.DTS-HD, 720p.BluRay.x264-YTS.AG, HDRip.XviD.AC3-EVO high quality subtitles from the Download servers below.
Languages Available in:
The download servers below has Kursk subtitles in English, Danish, Dutch, French, Germany, Hindi, Italian, Norwegian, Polish, Portugese (Brazil), Spanish (Latin American), Spanish/Espanyol (Spain), Swedish, Tamil, Greek, Russian, Hungary, Korean, Japanese, Chinese, Arabic and Aharamic Languages.
How to use the Downloaded .srt Subtitle file
Step 1: Download the appropriate subtitle file:
Download the .Srt subtitle files for Kursk by following the
"Download Server 1"
Links above. You will be taken to a page where you can now download the appropriate subtitle file for your movie or series.
Alternatively, you can use the
"Download Server 2"
link if the first server does not work for you!
Step 2: Adding Subtitles to Your VLC Player or other Media Players
To Add Subtitle files to your VLC Player, follow these steps accordingly:
1. Move the subtitle file into the same folder as your video file.
2. Rename the subtitle file with exactly the same name as your Movie or tv series file, so you have two files like.
3. Play your video in VLC. You should now see subtitles appear over your movie. If you don't, double check the .srt file is correctly named like your video, then close and restart VLC before playing again.
Cast of Kursk (2018)
Michael Nyqvist, Matthias Schoenaerts, Colin Firth, Léa Seydoux, Peter Simonischek, Max von Sydow, August Diehl, Matthias Schweighöfer, Joel Basman, Bjarne Henriksen, Lars Brygmann, Gustaf Hammarsten, Martin Brambach, Pit Bukowski, Feđa Štukan, Helene Reingaard Neumann, Geoffrey Newland, Magnus Millang, Peter Plaugborg, Miglen Mirtchev, Martin Greis, Aske Bang, Guido De Craene, Katrine Greis-Rosenthal, Pernilla August, Zlatko Burić, Eva van der Gucht, Olga Markina, Artemiy Spiridonov, Tom Hudson, Chris Pascal, Kristof Coenen, Guillaume Kerbusch, Koen De Sutter, Martin Greis-Roshental, Steven Waddington, John Hollingworth, Josse De Pauw, Jehon Gorani, Mark Irons, Danny van Meenen, Marjan De Schutter, Gabriela Cotet, David Russell, Martin Greis-Rosenthal,
Directing:
Writing:
Robert Rodat
Robert Moore
6.8/10
Country:

BE, FR, LU

Language:

English

Runtime:

118 mins

Budget:

$20,000,000