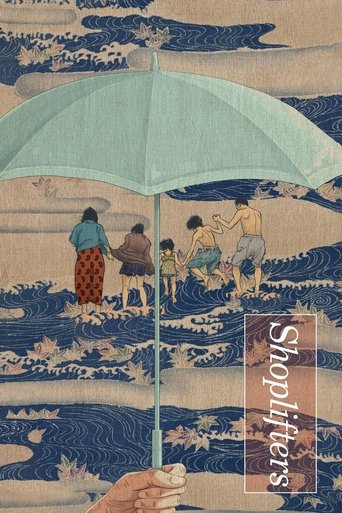 Rating:
7.9/10
Storyline of Shoplifters (2018):
After one of their shoplifting sessions, Osamu and his son come across a little girl in the freezing cold. At first reluctant to shelter the girl, Osamu's wife agrees to take care of her after learning of the hardships she faces. Although the family is poor, barely making enough money to survive through petty crime, they seem to live happily together until an unforeseen incident reveals hidden secrets, testing the bonds that unite them.
Download Formats:
Download Shoplifters in HDTVxh264, WEBrip, 1080p WEB (STRiFE) y 720p / 1080p, SA/AVS, WEB.STRiFE, HQ HDRip - XviD, 1080p.BluRay.x264-DRONES, 1080p.BluRay.x264-DRONES, 1080p.BluRay.x264.DTS-HD, 720p.BluRay.x264-YTS.AG, HDRip.XviD.AC3-EVO high quality subtitles from the Download servers below.
Languages Available in:
The download servers below has Shoplifters subtitles in English, Danish, Dutch, French, Germany, Hindi, Italian, Norwegian, Polish, Portugese (Brazil), Spanish (Latin American), Spanish/Espanyol (Spain), Swedish, Tamil, Greek, Russian, Hungary, Korean, Japanese, Chinese, Arabic and Aharamic Languages.
How to use the Downloaded .srt Subtitle file
Step 1: Download the appropriate subtitle file:
Download the .Srt subtitle files for Shoplifters by following the
"Download Server 1"
Links above. You will be taken to a page where you can now download the appropriate subtitle file for your movie or series.
Alternatively, you can use the
"Download Server 2"
link if the first server does not work for you!
Step 2: Adding Subtitles to Your VLC Player or other Media Players
To Add Subtitle files to your VLC Player, follow these steps accordingly:
1. Move the subtitle file into the same folder as your video file.
2. Rename the subtitle file with exactly the same name as your Movie or tv series file, so you have two files like.
3. Play your video in VLC. You should now see subtitles appear over your movie. If you don't, double check the .srt file is correctly named like your video, then close and restart VLC before playing again.
Cast of Shoplifters (2018)
Yuki Yamada, Kirin Kiki, Chizuru Ikewaki, Yôko Moriguchi, Sosuke Ikematsu, Akira Emoto, Mayu Matsuoka, Lily Franky, Sakura Ando, Jyo Kairi, Miyu Sasaki, Kengo Kora, Moemi Katayama, Naoto Ogata, Майю Мацуока, Yuki Yamada (Male),
Directing:
Hirokazu Koreeda
Hirokazu Kore-eda
Writing:
Hirokazu Koreeda
Hirokazu Kore-eda
7.9/10
Country:

JP

Language:

日本語

Runtime:

121 mins