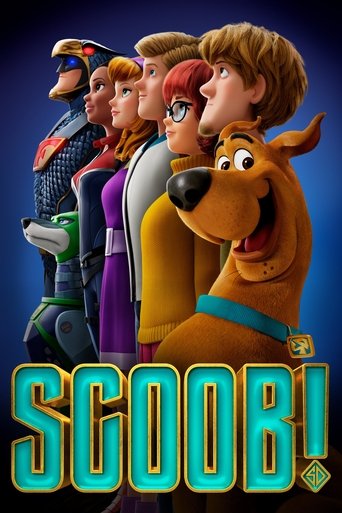 Rating:
7.6/10
Storyline of Scoob! (2020):
In Scooby-Doo's greatest adventure yet, see the never-before told story of how lifelong friends Scooby and Shaggy first met and how they joined forces with young detectives Fred, Velma, and Daphne to form the famous Mystery Inc. Now, with hundreds of cases solved, Scooby and the gang face their biggest, toughest mystery ever: an evil plot to unleash the ghost dog Cerberus upon the world. As they race to stop this global "dogpocalypse," the gang discovers that Scooby has a secret legacy and an epic destiny greater than anyone ever imagined.
Download Formats:
Download Scoob! in HDTVxh264, WEBrip, 1080p WEB (STRiFE) y 720p / 1080p, SA/AVS, WEB.STRiFE, HQ HDRip - XviD, 1080p.BluRay.x264-DRONES, 1080p.BluRay.x264-DRONES, 1080p.BluRay.x264.DTS-HD, 720p.BluRay.x264-YTS.AG, HDRip.XviD.AC3-EVO high quality subtitles from the Download servers below.
Languages Available in:
The download servers below has Scoob! subtitles in English, Danish, Dutch, French, Germany, Hindi, Italian, Norwegian, Polish, Portugese (Brazil), Spanish (Latin American), Spanish/Espanyol (Spain), Swedish, Tamil, Greek, Russian, Hungary, Korean, Japanese, Chinese, Arabic and Aharamic Languages.
How to use the Downloaded .srt Subtitle file
Step 1: Download the appropriate subtitle file:
Download the .Srt subtitle files for Scoob! by following the
"Download Server 1"
Links above. You will be taken to a page where you can now download the appropriate subtitle file for your movie or series.
Alternatively, you can use the
"Download Server 2"
link if the first server does not work for you!
Step 2: Adding Subtitles to Your VLC Player or other Media Players
To Add Subtitle files to your VLC Player, follow these steps accordingly:
1. Move the subtitle file into the same folder as your video file.
2. Rename the subtitle file with exactly the same name as your Movie or tv series file, so you have two files like.
3. Play your video in VLC. You should now see subtitles appear over your movie. If you don't, double check the .srt file is correctly named like your video, then close and restart VLC before playing again.
Cast of Scoob! (2020)
Frank Welker, Zac Efron, Amanda Seyfried, Will Forte, Gina Rodriguez, Tracy Morgan, Eli Ray, Ken Jeong, Kiersey Clemons, Mark Wahlberg, Jason Isaacs, Iain Armitage, Mckenna Grace, Ariana Greenblatt, Simon Cowell, Christina Hendricks, Henry Winkler, Harry Perry, John DiMaggio, Kevin Heffernan, Ira Glass, Henry Kaufman, Maya Erskine, Billy West, Don Messick, Fred Tatasciore, Justina Machado, Kennedy Peil, John McDaniel, Ryan Fosley, Pam Coats, Tony Cervone, Adam Sztykiel, Alex Kauffman, Vanara Taing, Sarah Lancia, Maven Morgan, Eric Cowell, Michael Kurinsky, Pierce Gagnon, Ryan Folsey,
Directing:
Writing:
Matt Lieberman
Kelly Fremon Craig
Adam Sztykiel
7.6/10
Country:

US

Language:

English

Runtime:

94 mins