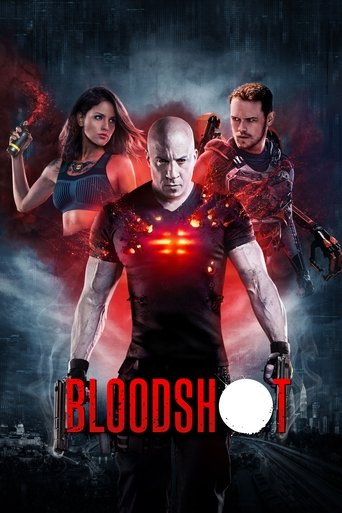 Rating:
7.0/10
Storyline of Bloodshot (2020):
After he and his wife are murdered, marine Ray Garrison is resurrected by a team of scientists. Enhanced with nanotechnology, he becomes a superhuman, biotech killing machine—'Bloodshot'. As Ray first trains with fellow super-soldiers, he cannot recall anything from his former life. But when his memories flood back and he remembers the man that killed both him and his wife, he breaks out of the facility to get revenge, only to discover that there's more to the conspiracy than he thought.
Download Formats:
Download Bloodshot in HDTVxh264, WEBrip, 1080p WEB (STRiFE) y 720p / 1080p, SA/AVS, WEB.STRiFE, HQ HDRip - XviD, 1080p.BluRay.x264-DRONES, 1080p.BluRay.x264-DRONES, 1080p.BluRay.x264.DTS-HD, 720p.BluRay.x264-YTS.AG, HDRip.XviD.AC3-EVO high quality subtitles from the Download servers below.
Languages Available in:
The download servers below has Bloodshot subtitles in English, Danish, Dutch, French, Germany, Hindi, Italian, Norwegian, Polish, Portugese (Brazil), Spanish (Latin American), Spanish/Espanyol (Spain), Swedish, Tamil, Greek, Russian, Hungary, Korean, Japanese, Chinese, Arabic and Aharamic Languages.
How to use the Downloaded .srt Subtitle file
Step 1: Download the appropriate subtitle file:
Download the .Srt subtitle files for Bloodshot by following the
"Download Server 1"
Links above. You will be taken to a page where you can now download the appropriate subtitle file for your movie or series.
Alternatively, you can use the
"Download Server 2"
link if the first server does not work for you!
Step 2: Adding Subtitles to Your VLC Player or other Media Players
To Add Subtitle files to your VLC Player, follow these steps accordingly:
1. Move the subtitle file into the same folder as your video file.
2. Rename the subtitle file with exactly the same name as your Movie or tv series file, so you have two files like.
3. Play your video in VLC. You should now see subtitles appear over your movie. If you don't, double check the .srt file is correctly named like your video, then close and restart VLC before playing again.
Cast of Bloodshot (2020)
Toby Kebbell, Vin Diesel, Talulah Riley, Eiza González, Jóhannes Haukur Jóhannesson, Michael Sheen, Sam Heughan, Alex Hernandez, Guy Pearce, Siddharth Dhananjay, Lamorne Morris, Maarten Römer, Tamer Burjaq, Patrick Kerton, Ryan Kruger, Alex Anlos, Clyde Berning, Tyrel Meyer, David Dukas, Tristan Mamasakhlisashvili, Charlie Bouguenon, Nic Rasenti, Ryan Michael Sin, Michael Kirch, Austin Rose, Gary Naidoo, Hilton Sun, Tsogt Baysgalan, Donovan Goliath, Freyja Stern, Keeno Lee Hector, Jeremy Jess Boado, Shelani Van Niekerk, Jason Goliath, Rashidi Alema,
Directing:
Writing:
Jeff Wadlow
Eric Heisserer
Kevin VanHook
7.0/10
Country:

CN, US

Language:

English

Runtime:

110 mins

Budget:

$42,000,000

Revenue:

$30,234,182